Business Owners:
Tascon Construction Ltd
"Kevin has worked with me for several months now. He has helped me through some very tough times in both my business and personal life. Kevin's advice, support and total confidence in me have resulted in a huge turn around in my life. Kevin has shown honesty, professionalism and integrity during the time I've known him and I would have no hesitation in recommending him to anyone who is looking to grow or recover their business. Thanks Kevin"
Derek Glass, Owner
DoubleWinkel Professionals Real Estate Ltd
"Recently my business partners and I engaged Kevin Heppleston to assess our Real Estate company, (7 offices), across a number of organisational success factors. The methodology known as AskYourTeam employed diagnostic survey and analysis tools that touched our entire organisation.
I can thoroughly recommend Kevin, who brought a wealth of business knowledge and experience gleaned from his extensive business background and tailored this to our specific needs.
What particularly impressed us was Kevin's respectful non-judgemental manner of handling the nuances and challenges that a diverse, predominantly "commission only, independent contracting sales team" affords. Kevin has the ability to distil seemingly complex matters to yield simple, practical solutions. Kevin actively probes, listens, observes, questions and intelligently interprets outcomes with striking accuracy.
We developed such a high level of trust and respect for Kevin's ability throughout this process, we willingly handed him the reins for him to present the survey findings and recommendations on our behalf to our entire team.
We are looking forward to continuing our work with Kevin during the implementation phase and are buoyed by the comfort his business experience, knowledge and style provides.
I recommend Kevin without reservation and I am happy to be contacted to verify the same".
Philip Whearty, Director
Champian Dental Centre and Kapiti Dental Centre
Kevin has been an integral part of my planning and management team for many years. His contribution has been essential to the on going success of our SME. As an owner/operator there is a tendency to become isolated from your immediate team, so having Kevin as a sounding post and knowing he will provide solid advice has been of great assistance.
Ian Ongley, Owner
Makeweb Limited
Kevin has supported our business since we moved it to NZ in 2008, and was instrumental in advising us during that phase. Kevin is a strong adviser in terms of leadership coaching and business coaching and understands what it takes to make a leader perform and a business achieve it's goals. We continue to benefit from from Kevin's professionalism and would be happy to recommend his skills to other businesses.
Rene Ebberson, Owner
Richards Consulting Engineers
"Kevin recently helped us to create and implement a plan to grow our business to meet the current demand in the market. There is currently a shortage of premises and suitable staff to help us meet our growth targets and the plan we created with Kevin needed to address these key issues for us to achieve our goals.. Through the initial implementation stage Kevin kept us focused and also adjusted our approach where we were not meeting our goals due to external factors. Of most benefit was Kevin's inspiration to grow our business, advice on setting up a business culture and a practical plan to achieve this growth".
Sam Richards, Owner
Marc Bendall Ltd
Marc Bendall has been very fortunate through the generosity of Recover Canterbury to engage the services of Kevin Heppleston from Wellington, as an advisor. Whilst Marc and I were unsure that a business advisor so far removed from Canterbury would be able to help our business needs, we have been more than satisfied.
Kevin has been able to correctly assess our situation, and act quickly and accordingly, for the benefit of our growth.
We cannot speak highly enough of Kevin, so much so, that we realize now to loose him now, would be to the detriment of our business.
Catherine and Marc Bendall, Owners
Vision Specialists
"One Direct Marketing letter made us $25,000 in the first year, and $30,000 in the second. Pipelines' like this are fantastic - the work just keeps coming. During the year, we encountered many new team challenges. Kevin has special skills in this area and 'Team' is undoubtedly his key strength. To get any sort of leverage in our business we need a great team. We have made significant improvements in our leadership and management of our 'Team' and ...(more) next year we are striving towards improving the 'Happiness" of our "Team' – ALL thanks to Kevin's help and guidance. Some of the MOST powerful things we have learnt this year have been to do with our own Identity. Discovering who we are through the DISC process and then working on our Identity of who we want to be in the future is extremely exciting and motivating. Developing this inner confidence, strength and courage will provide us with unlimited potential – Thanks Kevin we are going to have a great 2002".
Winner of the Action International "Entrepreneur's Award" and "Action International Business of the Year 2004"
Phil and Michelle Richards, Owners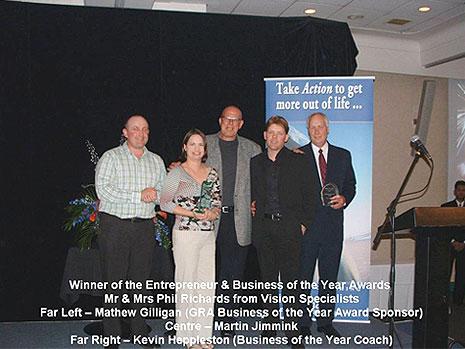 Education Personnel
"I cannot recommend Kevin highly enough, as a Coach with exceptional integrity and skill".

"I have been coached by Kevin for over five years. The results of this coaching are amazing! Turnover doubled in both the first two years and profits increased substantially as well. Plus, profits have quadrupled......(more) in the past financial year. I am looking at the best financial and business year my business has ever had. I now have vastly increased business and personal knowledge, plus a corresponding huge leap in confidence in my own ability. I recommend Kevin as a Coach with exceptional knowledge and exceptional skill".
Stuart Birch
Kip McGrath
"I wanted to take this opportunity to express my personal appreciation for your participation as a guest speaker at our 10th Anniversary National Conference and also the appreciation of the attendees. We appreciate your willingness to take time out of your busy schedule to plan, prepare and present.

The conference was a huge success,...(more) thanks in part to your excellent contribution. It is truly gratifying to have someone with your expertise assist us in putting on this conference. Your insight and expertise provided valuable information that will help strengthen our skills.

We know from the comments made by many delegates that the conference in general, and your presentation in particular, was very well received. It is special people like you that made our conference a huge success".
David Wardell
Mr Eftpos
"I launched a new business during the year and I knew I needed moral support and an unbiased opinion to keep me on track. I chose Kevin as my business coach to fulfil those roles because I already knew and trusted him as a person.

As a coach he has been fantastic. When I had the lows that come with a new venture, Kevin was the level head that gently pointed me in the right direction. And when I had the highs...(more) Kevin celebrated with me and also reminded me of the key issues I was still facing.

Kevin has the ability to point out issues in a helpful and non-threatening way, keeping me on board with him whilst straightening me out at the same time.

I really appreciate my weekly coaching sessions with Kevin. The moral support and steady encouragement gave me the courage and faith I needed to keep moving forward when I wanted to run back to my comfort zone.

Thanks Kevin, I really appreciate the help you've been and indeed continue to be. I set four major business goals to achieve in my first 6 months of business. I have achieved three of them and I am working on completing the fourth within the 6 month timeframe".
Richard Braddon-Parsons
Spectrum Education
"I engaged Kevin as my Coach in the year 2000. My purpose was to have help, support and accountability for me to move my education business forward.
Kevin was very efficient and thorough in his analysis of my business and was able to ascertain my needs & goals, the business's needs & goals and identity both the strengths and weaknesses. He then offered me a step by step process to meet these goals and weaknesses.

In the first 6 months of working with Kevin, Spectrum Education's turnover increased six times. ...(more) Kevin coached me through expanding my market and product range. He assisted with marketing ideas, team development, testing & measuring, writing advising and proofing advertising and a variety of other business development issues.

Kevin was also coaching me when I won the Award of New Zealand Business Woman Of the Year 2001 and I attribute much of this success to the coaching, support and wisdom gained from Kevin.

Kevin has been a member of my Board of Advisors, has mentored me through the purchase and sale of a retail business and his advice was invaluable during re-structuring Spectrum in order to grow bigger.

I continue to discuss ideas and challenges with Kevin, as his knowledge is vast and expertise in marketing and coaching invaluable. Currently Spectrum's turnover continues to grow on average 27% annually and profit is higher than ever. Much of this I attribute to the expert coaching and advice from Kevin.

I highly recommend Kevin as a Business Coach".
Karen Boyes, Owner
Sustainable Business Practice Award 2011
NZ Business Woman of the Year 2001
Also see "Recommendations" on Linked-In https://nz.linkedin.com/in/kevinheppleston


Corporate Clients:
Parker Bridge
"I would like to thank Kevin for the quality of coaching he has given me over the last 3 years.

I was appointed General Manager for Parker Bridge in Wellington in April 2006 with full profit and loss responsibility. Kevin has assisted me tremendously in establishing management practices and coaching me on leadership techniques with my team of 10 staff whilst at the same time giving a focus to my personal goals and ensuring synergy with the business. ...(more) Through weekly meetings Kevin has been instrumental in working towards the following key achievements:

♦ Winning the 2008 Business Award for "Best Financial Performance". At the Awards, the Judges noted the focus on profitability as well as revenue, which is always a driving force from Kevin.

♦ Consistently moving the bar higher and setting new goals and targets. In the last year we have moved from being the smaller sister branch compared to our Auckland Head Office to become the top branch in terms of billings, profitability and individual consultant performance.

♦ Thirdly to manage the business effectively to allow for 2 periods of maternity leave. For the first leave we worked hard to achieve a self-managed team and for the second period we promoted an Acting Manager internally. Both strategies were successful and suited the needs of the business at the time. Two key achievements of these leave periods were maintaining profitability and ensuring a good transition for me both out and back into the business.

♦ Through working with Kevin I am now in a position to take an 8 month sabbatical through Europe with my family and leave the business in the hands of an acting General Manager. I believe this would not have been possible without Kevin's coaching.

Kevin's approach is consultative; he looks to understand the business, the people within it and most importantly the goals of the business leaders. He ensures that weekly coaching sessions deal with both immediate issues and achievement of medium and long-term successes.

I have enjoyed working with Kevin and much appreciate the assistance he has given me, I have no hesitation in recommending his services to other business owners and managers who are looking to move their businesses to the next level".
Lucy McDonald: General Manager
Oxygen
I first met Kevin through the implementation of the online engagement tool Ask Your Team in his capacity as an Ask Your Teams Adviser / Partner.
His assistance through the implementation and subsequent analysis of results ensured that we received maximum value from our investment in the tool.
Having been impressed with Kevin's skills and in particular his passion for coaching and individual improvement we engaged him to assist in the development of a senior manager.
The manager in question was a longstanding and valued employee in our team however through circumstances and a lack of investment on our part in their personal development they were not performing as we felt they should.
With the organization undergoing a significant realignment it was imperative that they were able to do so.
We engaged Kevin to work one on one in a leadership development programme to assist the employee to develop more robust and resilient leadership skills, improved listening skills, an appreciation of personal and team accountability, improved confidence and better communication skills.
The programme ran over three months and it has without question resulted in significant improvements in all areas.
This has been a direct result of Kevin's excellent coaching skills and the manager embracing the programme.
Christian Casbolt, General Manager
Career Coaching;
"During a five month period from mid-2015, I undertook 10 career coaching sessions with Kevin as part of my employment transition plan.
I found Kevin to be a very professional advisor and coach. He quickly established a rapport with me and ascertained my current situation and desired objectives. Over successive coaching sessions, he then progressively prepared me to enter the wider government sector employment environment. As I commenced the job application phase, he proved most helpful with his personalised advice on specific job applications and in particular, ensuring that my cover letter and CV were appropriately structured for each application. A videoed job interview rehearsal prior to my first selection panel interview proved most advantageous.
Kevin was flexible in our meeting arrangements and throughout, focused on what I wanted to achieve from each session. I found this personalised client focus to be both effective and beneficial.
Kevin essentially took the employment experience and attributes I had, fine-tuned and re-packaged them to match the current job market, and provided me with the best chance of competing in this market.
I would gladly recommend the career coaching services of Kevin to any prospective client."
Garry Brosnan: Director, Office of Deputy Secretaries, Courts and Tribunals
Commander Kevin Keat
As yesterday was the last of our meetings I'd just like to 'register' a note of thanks for your time, patience and professionalism throughout our association. Your advice and guidance has been of immense value in my preps for my next assignment (whatever that may be) and in particular I found your easy-going, engaging style very comfortable and made for a more interactive relationship.
I wish you all the best and if I identify further need for personal up-skilling in your areas of expertise then I will certainly be in touch.
Kind regards, with sincere thanks, Kevin Keat
Simon Pleasants
With great pleasure, I recommend Kevin to anyone seeking guidance around their career or personal brand. Kevin is highly professional, a wise and careful thinker, and an encouraging mentor. He is friendly, responsive and genuinely cares about my results and reputation. I have no hesitation in recommending his services. Simon Pleasants
John Su'a
I have had the pleasure of engaging with Kevin in his capacity as a careers coach and have found him to be exceptional.
Empathetic, knowledgeable, reassuring and always wanting for me - to progress and move forward, Kevin was - and is - a revelation.
Working with Kevin has been an uplifting and broadening experience. His way of helping me to uncover myself to see my value – and to see myself the way that others do was enlightening.
With Kevin's thoughtful suggestions and areas for me to focus on, I was able to center my energies and concentrate on specific areas which promoted my value set, put the spotlight on parts of my presentation material and ultimately – enhanced my value proposition.
In meeting with Kevin, I have undoubtedly become a better person and I cannot say enough about him. Recommend Kevin? All the time and every time.
Thank you Kevin. For your help, your encouragement and your assistance. Without these - I would surely have been lost at sea. John Su'a
Also see "Recommendations" on Linked-In https://nz.linkedin.com/in/kevinheppleston
Wealth Profile:
"The Wealth Profile – my journey". Here's the backstory:
A friend told me about how she had found understanding her Wealth profile really helpful in her business development, so to start with I did what she did – I invested in the Profile Test, then contacted Kevin Heppleston and booked a single session with him to help me make sense of my Wealth Profile Report.
It took a while for me to digest that session and I was motivated to find out more, because part of what my Wealth Profile (Creator) needs is to find a 'Supporter' and others to build a strong team. I really wanted to understand the Profiling System better so I could know how to recognise these people when I met them!
So then I downloaded the "Your Life Your Legacy" audio book and listened to a lot of it during our road trip.
Personally, understanding my Wealth Profile has completely transformed the way I think about what I do, and I feel like I'm operating on a whole different level.
For me, it's been well worth the money I spent… So if you're drawn to understanding your Wealth Profile and how to 'get into your flow', I recommend you invest in taking your Profile test (at www.ascendency.co.nz) and a consultation with Kevin to help you make sense of it."
Yollana
Workshops
On 30 June 2016, Ascendency ran a very successful and well attended workshop titled "How to Build a Million Dollar Business". This took the form of an interactive workshop with attendees breaking into small groups to discuss different topics and then reporting back to the whole group. There was a discenrible buzz and a real sence of engagement. This was quite different from the usual business talks we have held in the library and it worked very well for our business customers.
Marilyn Domney RLIANZA - Business Development Customer Specialist, Wellington City Library

Rear Admiral Jack Raymond Steer
"I was fortunate enough to attend a group session on LinkedIn run by Kevin. Although I was expecting quite a lot Kevin far exceeded my expectations.
Firstly Kevin has a wonderful friendly and approachable manner. Secondly he has a deep understanding of LinkedIn and has numerous real life examples of success and things that could have gone better. And...he doesnt just dump you after the course has finished. I would strongly recommend Kevin to anyone seeking to improve their employability, LinkedIn profile or just use him as a sounding board. Kevin has been there and done that, and is only too willing to help others succeed. You will not go wrong in seeking Kevin's advice. It made a big difference for me. Thanks Kevin."
Jack Steer
Southcoast Electrical
"At a free Ascendency seminar, I identified my niche market, which was not in my conciousness, and I may never have found it, even though it was there all along.
Ascendency has given me the vision, belief and right tools to see the future I can have.
Working with Ascendency has been amazing and fun. We work at my pace - small steps, one at a time and I like that.
It ticks all the boxes for me and I would recommend Ascendency to anyone who has a business that they want to be hugely successful".
Shane O'Connor, Director
Property Mentoring
Kevin Heppleston is a man of many talents; through his dedication, coaching and guidance my brother and I were able to invest in our dream property, which has set us on the road to financial freedom.
My brother Ryan Melrose and I first met Kevin in 2011 we were part of a wealth creation group. Ryan and I had a clear vision, shared by many people, to be property owners and achieve financial freedom. When Kevin first met us I was in my early 20's and my brother was in his late teens, at that time we had only our vision to create wealth.
Over the years we kept in touch with Kevin and along the way learnt about his own considerable achievements in creating his property portfolio. In 2016 Ryan and I came into some money, it was enough to start us off. Naturally we requested Kevin to mentor us through our property journey. It was a steep learning curve and there were many important steps that we had to grasp during our weekly Skype sessions with Kevin.
On the practical side Kevin was able to guide us and educate us of the processes involved purchasing a property. We looked for many months focusing on a multi income stream property. We discussed each property of interest and arranged viewings with real-estate agents. Kevin was our eyes in Wellington and went to a number of open homes on our behalf. His feedback after viewing each property was invaluable. It provided us with a powerful tool to start to decipher what a good investment looked like compared to a bad investment. But more importantly his personal experience as a property investor allowed him to preempt issues that could arise.
In early 2017 we finally found the property, it ticked all our boxes. As proud property owners we cannot thank Kevin enough for all his mentorship along the way, it would not have been possible without him.
Kevin went above and beyond in every sense. His dedication, warm personality coupled with experience and knowledge made him a wonderful role model and mentor.
We both recommend Kevin as a mentor, there was no one more suited to assisting us achieve our goal. We will be working with Kevin again in the future and I recommend you do too!!
Grateful clients,
Indigo Melrose and Ryan Melrose